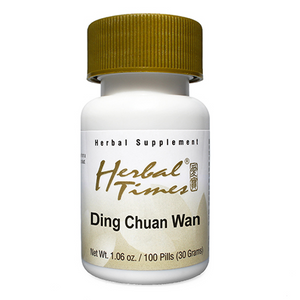 DING CHUAN WAN, HERBAL TIMES®
Common usage: Lung heat with cough and wheezing with thick yellow phlegm, difficulty to expel phlegm, labored breathing, fever chills, thirst, sweating. Upper respiratory tract infection with cough, bronchitis, asthma, emphysema.
100 Pills per bottle

Suggested dosage: 4 pills, 3 times per day
Ingredients: Sang Bai Pi (16.8%), Zi Wan (11.10%), Xing Ren (11.10%), Huang Qin (11.10%), Bai Bu (11.10%), Bai Guo (8.3%), Jie Geng (8.3%, Zi Su Zi (8.3%), Zhi Ban Xia (8.3%), Gan Cao (5.6%).