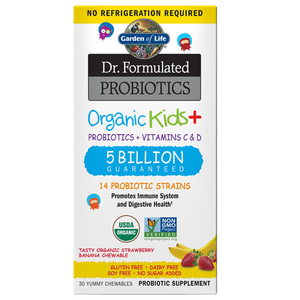 Dr. Formulated Probiotics Organic Kids (Strawberry/Banana)
Dr. Formulated Probiotics Organic Kids+ 5 Billion CFU
About Dr. Perlmutter: David Perlmutter, M.D., is an expert in the human microbiome, a board-certified neurologist, Fellow of the American College of Nutrition, America's brain-health expert and #1 New York Times best-selling author.
Dr. Formulated Probiotics Organic Kids + is a Certified USDA Organic, Non-GMO Project Verified delicious chewable probiotic, with no added sugars or sweeteners, designed to build a healthy microbiome and support children's digestive and immune health.†
Dr. Perlmutter created this unique Immune System and Digestive Support formula especially for kids. Each chewable is Certified USDA Organic, Non-GMO Project Verified tastes great and has no added sugar.† It also contains vitamin C from Organic Amla (30mg), vitamin D (400IU) and prebiotic fiber to help maintain a healthy immune system.† Organic matters, too. That means it's grown without toxic pesticides, antibiotics, hormones and no genetic engineering.
Dr. Formulated Probiotics Organic Kids+ 5 Billion CFU Benefits
Promotes immune system and digestive health†
5 billion CFU¹; 14 probiotic strains
Vitamin C from organic Amla (30mg); vitamin D (400IU) and prebiotic fiber
Available in our cold-shipped, Arrive Alive packaging or our Shelf Stable—No Refrigeration Required packaging
No added sugar
Yummy chewables with a tasty organic berry cherry flavor kids love
Grown without toxic pesticides, antibiotics, hormones and no genetic engineering
Organic Kids+—a unique Certified USDA, Non-GMO Project Verified Organic yummy chewable probiotic especially for kids to offer immune system and digestive support.†