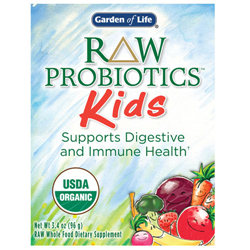 Raw Probiotics Kids 96g
Raw Probiotics Kids
Garden of Life RAW Probiotics Kids is a RAW, Certified USDA Organic, whole food probiotic formula specifically designed to meet the unique needs of children. Formulated with powerful probiotics, 23 RAW and organic fruits and vegetables, plus RAW inulin, a prebiotic that supports probiotic growth, RAW Probiotics Kids delivers over 5 billion live probiotic cells¹ per daily serving. RAW means our probiotics are uncooked, untreated, unadulterated; with no binders or fillers and no carriers. RAW Probiotics Kids features Garden of Life's Arrive Alive!™ Potency Promise—utilizing temperature-controlled cold storage and delivery from the moment the probiotic cultures are harvested all the way to your refrigerator—so you can be certain they are fresh, alive and body-ready. There is nothing more important to your child's well-being than a healthy digestive tract and maintaining a healthy immune system.† For generations, parents have relied on raw foods as cornerstones for their children's diets to provide the live probiotics, prebiotics and enzymes necessary for healthy digestion.† Give your child Garden of Life RAW Probiotics Kids every day—to support healthy digestion and immune system function.†
Raw Probiotics Kids Digestive Powder Benefits
Supports digestive health†
Supports immune system health†
Mild Banana Taste—May Be Mixed in Infant Formula, Milk, Water, Juice or Sprinkled on Food such as Yogurt, Applesauce or Cereal.
RAW Probiotics Kids— a RAW, organic, whole food probiotic powder formula specifically designed to meet the unique needs of children.
¹ At Expiration Date under recommended storage conditions. Best if refrigerated. Store in a dry place at 71ºF (22ºC) or below.