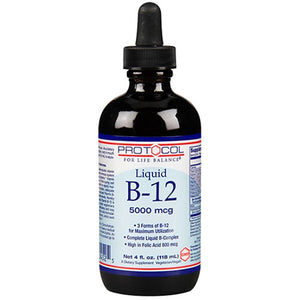 B12 Liquid (5000 mcg) 4 oz. by Protocol
Vitamin B-12 5,000 mcg Liquid
3 Forms of B-12 for Maximum Utilization
Complete Liquid B-Complex
High in Folic Acid 800 mcg
How it Works:
Vitamin B-12 is a water-soluble vitamin necessary for the maintenance of a healthy nervous system and for the metabolic utilization of fats and proteins.* Vitamin B-12 is also essential for the synthesis of DNA during cell division and therefore is especially important for rapidly multiplying cells, such as blood cells.* In addition, adequate intake of Vitamin B-12, along with Folic Acid and Vitamin B-6, encourages healthy serum homocysteine levels, thereby supporting cardiovascular health.* Because Vitamin B-12 is found predominantly in animal products, strict vegetarians are at risk of developing Vitamin B-12 deficiency and may benefit from supplementation. This product is also formulated with the entire B-Complex family of vitamins, which work together to support cellular energy production.*
Suggested Usage:
Shake well before use. As a dietary supplement, in the morning, take 1 teaspoon, hold in mouth for 30 seconds, then swallow. 1 teaspoon (5 mL) is equivalent to about 5 half droppersful. Refrigerate after opening to maximize freshness.
Cautions / Interactions:
For adults only. Consult physician if pregnant/nursing, taking medication, or have a medical condition. Keep out of reach of children. Contains Xylitol, do not feed to pets.
SUPPLEMENT FACTS
Serving Size: 1 Teaspoon (5 mL) / Servings Per Container: 24
Amount Per Serving                                                                  %DV
Calories                                                            10        
Total Carbohydrate                                            3 g                   1%*
Vitamin C (as Ascorbic Acid)                             120 mg             200%
Thiamin (Vitamin B-1) (from Thiamin HCl)            3 mg                 200%
Riboflavin (Vitamin B-2)                                     3 4 mg              200%
Niacin (Vitamin B-3) (as Niacinamide)                 50 mg               250%
Vitamin B-6 (from Pyridoxine HCl)                      10 mg               500%
Folate (as Folic Acid)                                         800 mcg           200%
Vitamin B-12                                                     5.0 mg (5,000 mcg)
[as Cyanocobalamin, Methylcobalamin
(Co-enzyme Form) and Dibencozide
(Co-enzyme Form)]                                                                   83,333%
Biotin                                                                300 mcg           100%
Pantothenic Acid (Vitamin B-5)
(from Calcium Pantothenate)                              50 mg               500%
* Percent Daily Values are based on a 2,000 calorie diet.
Other Ingredients:
De-ionized Water, Vegetable Glycerin, Xylitol, Brown Rice Syrup, Malic Acid, Choline Bitartrate, Organic Stevia Extract (Leaf), Natural Flavors, Inositol, Potassium Sorbate (as preservative), Grapefruit Fiber and Cinnamon Bark Oil (Ceylon) (Cinnamomum zeylanicum).
Allergens:
Not manufactured with wheat, gluten, milk, egg, fish, shellfish or tree nut ingredients. Produced in a GMP facility that processes other ingredients containing these allergens.