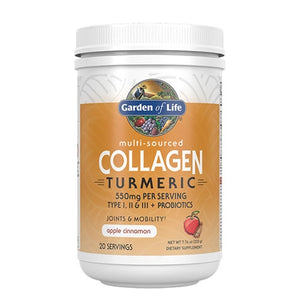 COLLAGEN TURMERIC (APPLE CINNAMON) 220G BY GARDEN OF LIFE
Collagen Turmeric
Multi-sourced Collagen Turmeric offers powerful plant-derived ingredients together with highly absorbable collagen peptides from grass-fed bovine collagen and clinically studied, undenatured chicken collagen. We've added 500mg of fermented organic turmeric root to deliver 50mg of curcuminoids to further support joints and mobility.† Convenient and easy-to-use—just add to shakes and smoothies.
Collagen—The Garden of Life Difference
Collagen is the most abundant protein in the human body and is often described as the glue that holds everything together. As we age, our body's natural production of collagen, a protein essential to overall health and appearance, declines.
Garden of Life now offers three Grass-Fed Collagen products to meet your specific needs. The entire line is Non-GMO Tested and Certified, Keto Certified, Paleo Friendly and NSF Gluten Free. Whether it's fortifying hair, skin and nails† or supporting healthy joints and mobility†, we have the clean, convenient answer in our collagen powders.
Collagen Turmeric Benefits:
1.5 Billion CFU probiotics for enhanced digestion†
Non-GMO Tested & Certified, Keto Certified & Paleo Friendly Certified, NSF Gluten Free
Delicious Apple Cinnamon taste - Use in shakes & smoothies
Multi-Sourced Collagen Turmeric is great for anyone looking to improve skin elasticity, nail and hair strength and joint mobility.†