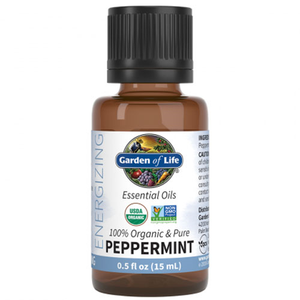 ORGANIC PEPPERMINT ESSENTIAL OIL 0.5 OZ. BY GARDEN OF LIFE
$34.99

$34.99

Save $14.35
---
---
Essential Oils Peppermint
Mentha piperita
Attributes: Energizing, refreshing, uplifting, invigorating
Origin: India
Plant Part: Leaf & Stem
Story: In history, the Chinese praised mints for their tranquillizing properties while the Greeks and Romans added mint to milk to prevent spoilage and served the herb after meals as a digestive aid. Peppermint essential oil is known to give a cooling, awakening and refreshing feeling.
Use: Add to coconut oil before applying directly to skin. May add 1 drop to your favorite soap, shampoo or bath salt. Add 10 drops to diffuser for an energizing boost. May combine with Organic Rosemary and Lavender Oils.
Applications: Body lotions, bug repellent, hand sanitizer gels, room sprays, chest salves, lip balms, exfoliating scrubs, cleansers, massage oils.
Essential Oils Peppermint Benefits:
100% Organic & Pure Peppermint Essential Oil