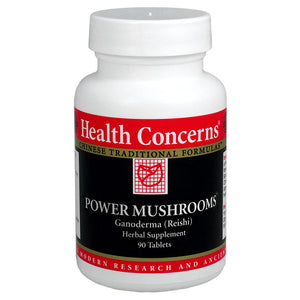 POWER MUSHROOMS BY HEALTH CONCERNS
Symptoms
Fatigue

Chronic Fatigue Syndrome

Tonic formula - Tonify Qi

Lupus

Mononucleosis

Multiple sclerosis

Myasthenia gravis

Strengthen immunity

Chronic Fatigue Syndrome - Fatigue cold signs

Colds and Flu - Prolonged

Fatigue - Following prolonged illness

Herpes - With cold signs

Herpes - Prodromal and Prevention

Fibromyalgia - Spleen deficiency
Therapeutic Actions
1. Enhance immune functions
2. Contain herbs that may have anti-tumor effect according to Chinese and Japanese research
3. Boost energy
4. Useful for autoimmune disorders, such as MS or lupus
5. Useful for prolonged colds and flu, asthma
6. Can be used as an adjunct to chemo and radiotherapy
Chinese Therapeutic Effects
Tonifies qi
Tonifies yin
Benefits stomach, spleen, lungs, kidneys
Mildly promotes diuresis
Administration
Internal: 1 to 3 tablets TID, taken between meals
90 tablets, 650 mg, 30 day supply; 270 tablets, 650 mg, 90 day supply

Contraindications: May have a warming effect with some yin deficient patients. May induce loose stool or skin rash. If these conditions persist, reduce dosage or select a different formula.
Ingredients
Red Ganoderma (reishi) fruiting body ling zhi

Tremella fruiting body bai mu er

Poria sclerotium fu ling

Polyporus sclerotium zhu ling