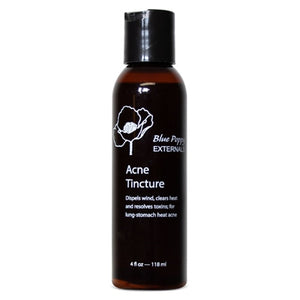 ACNE TINCTURE 4OZ, BLUE POPPY
Acne Tincture – Dispels wind, clears heat and resolves toxins; for lung-stomach heat acne.
Ingredients:  
Alcohol
Dan Shen (Radix Salviae Miltiorrhizae)
Bai Zhi (Radix Dahuricae)
Ku Shen (Radix Sophorae Flavescentis)
Da Huang (Radix Et Rhizoma Rhei)
Liu Huang (Sulphur)
Lian Qiao (Fructus Forsythiae)
Chuan Xin Lian (Herba Andrographitis)
Pu Gong Ying (Herba Taraxaci)
Tian Kui Zi (Radix Semiaquilegiae)
SOURCE FOR THIS FORMULA:   
Xu Shu-hai, Dali University College of Clinical Medicine, "The Treatment of Adolescent Acne with Integrated Chinese Medicinals Administered Internally & Used Externally," Si Chuan Zhong Yi (Sichuan Chinese Medicine), issue #1, 2008, p. 107
Method of administration:  
Apply once per day. Leave on for 30 minutes and then wash off.
Treatment principles:  
Dispels wind, clears heat, and resolves toxins 
Indications:
For lung-stomach heat acne.