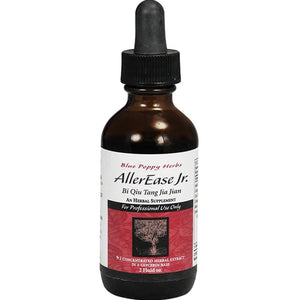 ALLEREASE JR (GLYCERIN TINCTURE) 2OZ, BLUE POPPY
Indications
The remedial treatment of acute episodes of allergic rhinitis characterized by clear, runny, itchy nose, itchy eyes, and sneezing due to wind evils taking advantage of defensive qi not securing in turn due spleen (and possibly kidney) vacuity with deep-lying phlegm rheum.
Contraindications
This formula is not for the treatment of wind heat or liver-gallbladder damp heat sinusitis. For that, consider using Perilla & Mentha formula.
The signs and symptoms of wind cold allergic rhinitis include
Episodic or seasonal sneezing due to airborne allergens

Clear, watery runny nose

Itchy nose

Itchy eyes

Nasal congestion
The signs and symptoms of spleen vacuity include
An enlarged tongue with teeth-marks on its edges and white fur

A possible soggy pulse in the right bar position

Fatigue

Lack of strength

Possible loose stools

A craving for sweets and/or "sugar blues"
DOSING: 2 droppers full