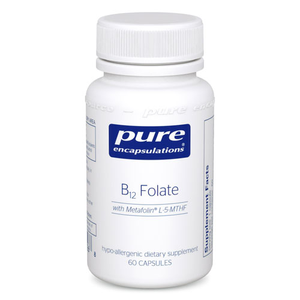 B12 FOLATE 60'S, PURE ENCAPSULATIONS
B12 Folate
With Metafolin® L-5-MTHF. Activated vitamin B12 and folate
Vitamin B12 and folate are interrelated in function. They convert carbohydrates into energy, and are vital in the metabolism of fats and protein. They play an important role in the maintenance of muscle tone in the GI tract, the functioning of the nervous system, and the integrity of skin, hair, and the liver. Folate is essential for healthy fetal neural development. The B12 in this formula is provided as methylcobalamin, the most bioavailable form of this vitamin.
B12 Folate provides optimum support for the GI tract, nervous system, and the metabolism of fats and protein.
Metafolin® is a registered Trademark of Merck KGaA, Darmstadt, Germany.
Supplemental Facts
Amount Per Serving
each vegetable capsule contains:
folate (as Metafolin®, L-5-MTHF)………………..800 mcg.
vitamin B12 (as methylcobalamin)……………….800 mcg.
ascorbyl palmitate (fat-soluble vitamin C)…………...2 mg.
other ingredients: hypo-allergenic plant fiber
(cellulose), vegetarian capsule (cellulose, water)
1–2 capsules per day, in divided doses, with meals.