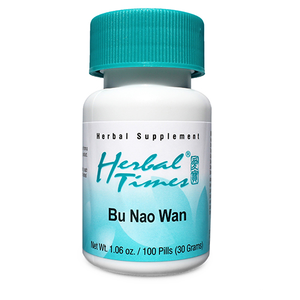 BU NAO WAN, HERBAL TIMES®
Common usage:  Nourishes the heart, tonifies blood, tonifies kidney, resolves stagnation, subdues yang, calms shen. Blood deficiency and yin affecting memory, concentration and alertness. Insomnia, restlessness, palpitation, anxiety or vivid uncomfortable dreaming. 
100 Pills per bottle

Suggested dosage: 4 pills, 3 times per day
Ingredients: Suan Zao Ren (18%), Dang Gui (12%), Wu We Zi (10%), Hu Tao Ren (10%), Gou Qi Zi (10%), Bai Zi Ren (10%), Yi Zhi Ren (8%), Shi Chang Pu (7%), Tian Ma (5%), Tian Zhu Huang (5%), Yuan Zi (5%).