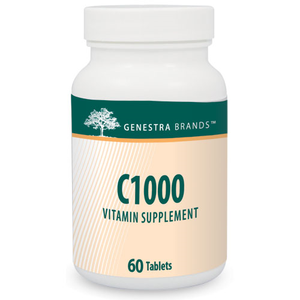 C1000 120 TABLETS, GENESTRA
C1000 Capsules by Genestra

Product overview:
Vitamin C formulation in tablets
1,000 mg Ascorbic acid per tablet
With added citrus and non-citrus bioflavonoids
Rose hips, hesperidin, quercetin and rutin
Ideal for vegetarians
Convenient tablet format increases patient compliance
C1000 provides vitamin C and a wide range of bioflavonoids to help in the development and maintenance of bones, cartilage, teeth and gums; helps the body to metabolize fats and proteins; helps in wound healing and connective tissue formation; an antioxidant for the maintenance of good health; helps to prevent vitamin C deficiency (1). Product ideal for vegetarians.
 Formula:
Supplement Facts
Serving Size 1 Tablet/ Servings per Container 120
Each Tablet Contains                                                                            %DV
Vitamin C (ascorbic acid)……………………………………1000 mg            1667%?
Rose (Rosa canina) Hips………………………………………50 mg                  *
Hesperidin (from Citrus limon/aurantium pith/peel)………….25 mg                  *
Quercetin…………………………………………………………25 mg                  *
Rutin………………………………………………………………25 mg                  *
? Percent Daily Values (DV) are based on a 2,000 calorie diet
* Daily Value not established
Other Ingredients: Cellulose, silica, croscarmellose sodium, magnesium stearate, pharmaceutical glaze
Dosage: Adults: Take one tablet two times daily with meals, or as recommended by your healthcare practitioner. For use beyond six weeks, consult your healthcare practitioner.