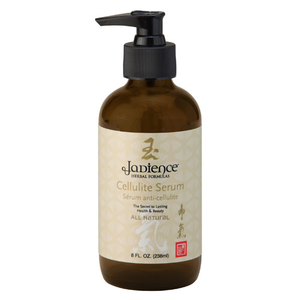 CELLULITE SERUM 8 OZ., JADIENCE
This incredible formula utilizes the detoxifying properties of Jade and powerful East Asian herbs with the invigorating powers of Ginseng and Caffeine to increase chi (energy) and circulation in order to break down toxic accumulation, which is the leading cause of cellulite.  Firms and tightens skin, while dramatically reducing the appearance of cellulite.
Directions: Apply a thin layer evenly to targeted area in a circular motion until completely absorbed.  Benefits are cumulative with regular use.
Ingredients: Herbal Extracts: (Ginseng, Bitter Orange, Burdock Root, Angelica, White Peony, Radix Polygoni Multiflori, Stephania, Szechwan Lovage Root, Licorice Root, Poria Cocos, Atractylodes, Astragulus, Euphoriae, Wild Pansy, Pomegranate Rind) Aloe Vera, Water, Glycerin (Plant sources), Caprylyl Glycol, Xanthan Gum (Fermented Sugar), Potassium Sorbate, Natural Fragrance Oil, Green Tea Extract (Camellia Sinensis), Bergamot, Cetyl Hydroxyethylcellulose (Plant Cellulose Thickener), Dipotassium Glycyrrhizinate (Liquorice Root Extract), Caffeine, Jade Powder