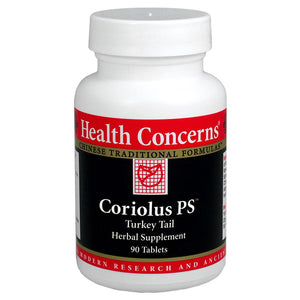 CORIOLUS PS, HEALTH CONCERNS, 90 TABS
Symptoms
Chemo/Radio surgery support - Long term
Fibrocystic Breast

Therapeutic Actions

Japanese research shows that this medicinal mushroom extract has anti tumor effects and stimulates natural killer (NK) cells. Used in conjunction with chemo and radiation therapy, Coriolus has been found to be instrumental in helping increase cancer survival rates.

Stimulate production of killer T cells and tumor necrosis factor (TNF); activates macrophage function.

Also used as adjunct for hepatitis, HIV, lung infections


Chinese Therapeutic
Dispel dampness
Reduce phlegm
Clear heat
Alleviate inflammation
Administration What is This?
 
Dosage: 6-12 tablets daily between meals, as part of supportive immune protocol
90 tablets, 500 mg., 15 day supply