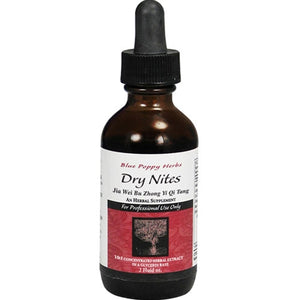 DRY NITES (GLYCERIN TINCTURE) 2OZ, BLUE POPPY
FUNCTIONS:
Supplements the qi of the lung, spleen, and kidney
INDICATIONS:
This formula is for the treatment of pediatric bed-wetting or enuresis due to a combination of lung,
spleen, and kidney qi vacuity which is the most commonly seen pattern of pediatric bed-wetting.
CONTRAINDICATIONS:
Bed-wetting due to damp heat pouring downward.
SIGNS & SYMPTOMS OF KIDNEY QI VACUITY INCLUDE:
Pediatric bed-wetting
Other signs and symptoms are not necessary. It is a given that the kidneys are not exuberant until
puberty and not mature until early adulthood.
SIGNS & SYMPTOMS OF LUNG-SPLEEN QI VACUITY INCLUDE:
A blue vein between the eyebrows

Cold hands and feet

Poor appetite

Fatigue

Easy contraction of colds

A tendency to loose stools

Frequent clear urination
DOSAGE: 2 droppers full