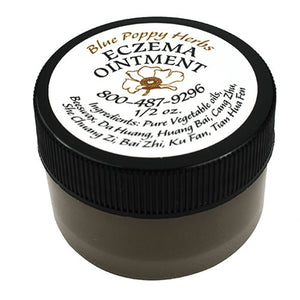 ECZEMA OINTMENT 1/2 OZ, BLUE POPPY
Eczema Ointment (Shi Zhen Gao) clears heat and eliminates dampness, dispels wind and stops itching; for wind damp heat eczema.
 Ingredients:
Vegetable Oil
Shortening
Beeswax
Method of administration:
First wash the affected area with hydrogen peroxide solution and allow to dry. Then apply the ointment once every morning and evening.