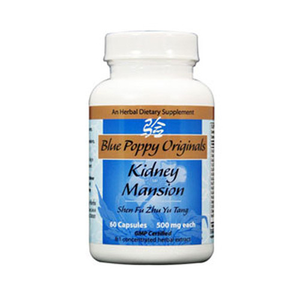 KIDNEY MANSION CAPS 60'S, BLUE POPPY
Rx:
Shu Di (cooked Radix Rehmanniae)
Shan Zhu Yu (Fructus Corni)
Gou Qi Zi (Fructus Lycii)
Tu Si Zi (Semen Cuscutae)
Du Zhong (Cortex Eucommiae)
Xu Duan (Radix Dipsaci)
Bu Gu Zhi (Fructus Psoraleae)
Ba Ji Tian (Radix Morindae Officinalis)
Niu Xi (Radix Achyranthis Bidentatae)
Gu Sui Bu (Rhizoma Drynariae)
Wu Jia Pi (Cortex Acanthopanacis)
Dang Gui (Radix Angelicae Sinensis)
Chi Shao (Radix Paeoniae Rubrae)
Chuan Xiong (Rhizoma Chuanxiong)
Ren Shen (Radix Ginseng)
Indications:
This formula is for the treatment of chronic low back pain due to a combination of kidney vacuity (yin or yang) plus blood stasis and possible lingering wind damp evils. It may also be used to treat postmenopausal osteoporosis.
 
The signs & symptoms of kidney vacuity include:
Low back and knee soreness and limpness

Tinnitus

Decreased auditory acuity

Dizziness

Polyuria

Nocturia

Enduring disease

Advanced age
The signs & symptoms of blood stasis include:
Fixed, localized pain

Enduring pain

Pain which is worse at night

Age spots

Varicose veins

Cherry hemangiomas

A dark, sooty facial complexion

Purple lips and nails
The signs & symptoms of wind damp impediment include:
Joint pain which is worse on exposure to cold and dampness
The signs and symptoms of liver depression include:
lower abdominal distention/cramping

irritability

rib-side ain

premenstrual breast distention and pain

a bowstring pulse

chest oppression
Dosage:
Take 3 capsules 2 times per day or follow your health care
practitioner's instructions.