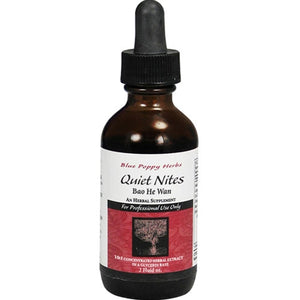 QUIET NIGHTS (GLYCERIN TINCTURE) 2OZ, BLUE POPPY
FUNCTIONS:
Clears heat and abducts food stagnation, harmonizes the stomach.
INDICATIONS:
This formula is indicated for either of two purposes. First, it is for the treatment of any person of any age suffering from food stagnation complicated by stomach heat. Secondly, it is especially indicated for infants suffering from colic due to food stagnation complicated by heat.
SIGNS AND SYMPTOMS OF FOOD STAGNATION INCLUDE:
Indigestion

Nausea

Possible vomiting

Possible diarrhea

Lack of appetite

Abdominal distention

Thick, slimy tongue fur

A slippery pulse
SIGNS & SYMPTOMS OF STOMACH HEAT INCLUDE:
Bad breath

Yellow tongue fur

A possibly rapid pulse
SIGNS AND SYMPTOMS OF COLIC DUE TO FOOD STAGNATION COMPLICATED BY HEAT INCLUDE:
Infantile fussiness and/or crying beginning in the afternoon and continuing into the night

Insomnia and restlessness

Pumping of the legs, possibly followed by flatulence with temporary cessation of crying

Abdominal distention

Vomiting of recently ingested, undigested, possibly curdled milk

Bad breath

A red face and reddish fingernails

Warm hands and feet when crying

A congested, purplish vein on the palmar surface at the junction of the index finger's first phalangeal and metacarpal bones
COMBINATIONS:
This formula may be combined with any other formula where food stagnation is a prominent complicating disease mechanism.
 DOSING: 2 droppers full