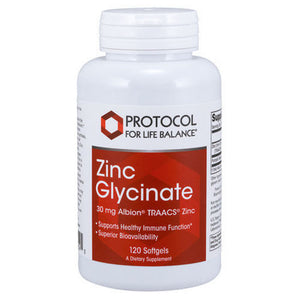 ZINC GLYCINATE (30MG) 120 SOFTGELS BY PROTOCOL
Zinc Glycinate
Supports Healthy Immune Function*
Reproductive Health*
Superior Bioavailability*
How it Works:
Zinc is an essential mineral that is involved in many aspects of cellular metabolism.* Zinc is a key cofactor in hundreds of enzymatic reactions, and plays a critical role in protein synthesis, the maintenance of cellular structures, and cell signaling.* Because of these varied functions, Zinc is necessary for the maintenance of skeletal, neurological, reproductive, and immune system health.* Although dietary bioavailability of Zinc is relatively poor, Zinc Glycinate has been shown to achieve superior absorption and bioavailability.*
Suggested Usage:
As a dietary supplement, take 1 softgel daily, or as directed by your healthcare practitioner.
Cautions / Interactions:
Zinc may interact with cisplatin and many drugs can affect zinc status. Certain medications, including penicillamine, bisphosphonates, quinolone and tetracycline, may affect Zinc absorption. Take zinc supplements at least 2 hours before or after any drugs that may affect its absorption. Consult your healthcare practitioner before taking this product if you are taking any medications.